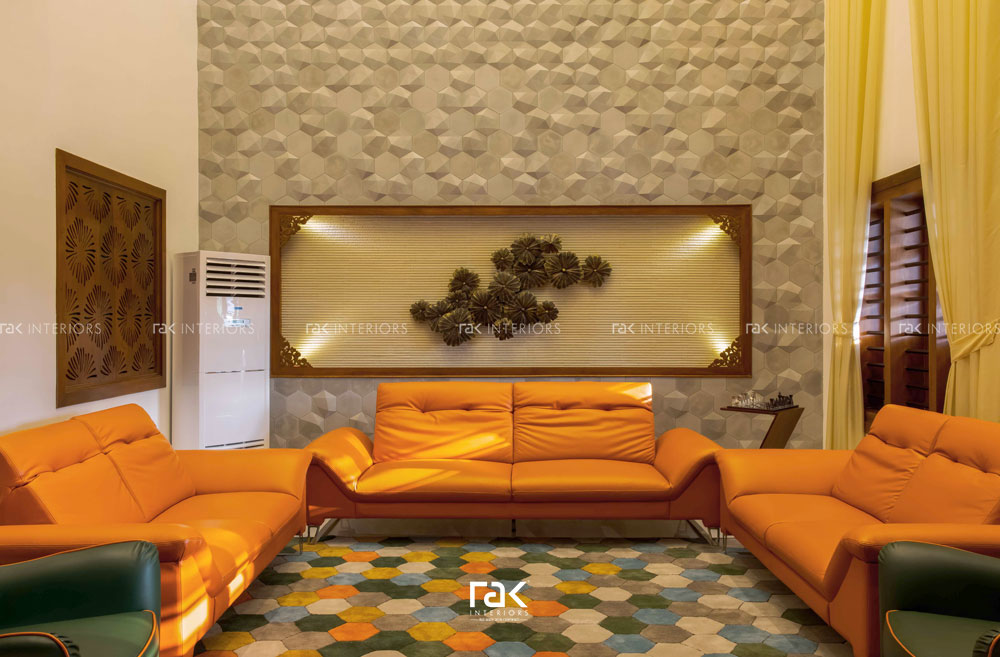 3 Easy Ways to Create Elegant Walls
What Goes on the Wall, stays to make an impression. Decorating your walls can be an exciting and transformative process. It's an opportunity to add personality and style to your space while also making a statement. With so many options available, it can be overwhelming to decide on the right design for your walls. We often get questions from our customers regarding design preferences and aesthetics that can blend well with the chosen theme and interior styling. With in the years of experience in the field of interior designing, we can strongly say that every home is unique and not every style suits every home. Traditional homes call for subtle statement walls while the contemporary and colonial styles demand sophisticated artwork on the double height walls, or even on regular walls. Listed right here are three brilliant ways to decorate your walls that are currently trending in the world of interior design.
Enhance your wall with Tiles to match
Wall tiles are a versatile and stylish option for decorating your walls. They come in a wide variety of materials, colors, and patterns, making them perfect for any room in your home. Whether you're looking to create a bold statement in your living room or add a touch of elegance to your dining area, wall tiles are an excellent choice. We offer a wide range for our clients to choose from when it comes to wall tiles. Going for local made options is the last on our checklist of recommended wall tiles. Imported tiles have the capacity to endure the long years and climatic variation we face in our region. This doesn't cut short the list of options, you can keep that worry off your head. With the growing public urge to work with the best interior designers in Kerala, it has become a part of interior concept designing to include innovative and challenging designs and concepts in homes that call out for unique interior designs.
Give your walls the Paperwork it needs
Wallpaper is making a comeback in the world of interior design, and for good reason. It's a great way to add color, pattern, and texture to your walls. Whether you choose a bold geometric print or a subtle floral pattern, wallpaper can make a room feel more interesting and dynamic. The only factor that should be taken into consideration while working with wallpapers is that of moisture. If the area you wish to decorate with wallpaper is close to areas that mug up moisture, like wash counters, open spaces, you need to give your choice a second thought. Another trend that has cropped up recently is the technique of blending the wallpaper and furniture fabric of a room. If you have a wall guarded by beautiful flowy curtains on both sides, and accompanied by an accent chair or a set of chairs in front, here's how the trend defines the space – The curtains go light on the colours chosen, while the wallpaper will be ultra-bold, in matters of texture, colour and pattern. Strong florals or indie patterns are the trending prints lately. The same print will reflect on the fabric of the accent chair placed in front of this area, making the entire unit stand out and be called a sigma style, when in comparison with the rest of the room or space. Here again, not every style can have a wall done in this manner. Let your interior designer know the style you are looking for and you will definitely arrive at the best solution with the best interior designers in Kochi by your side.
The radiant paneling technique
Timeless and elegant as it sounds, wall paneling is an easy way to decorate your walls. It can add warmth and character to a room, making it feel cozy and inviting. Whether you choose wood paneling, or a modern take on the trend, wall paneling is a great option for any area in your home. Wooden paneling has a handful of options that can enhance the look of your space. Starting from imported linear panels and other laminated panels that come in various patterns and shades are predominant in the trend market today. Not to be defined by the above materials in discussion, we pave ways open to mirror paneling, cushion panels and what not! Every aspect will be taken into consideration when designing custom interiors. This involves inputs from our expert designers who have worked with international clients and leading designers. Rest assured; you will be stepping into a home of your dreams with interiors that make your home a place you will always wish to return to.
If you're looking for expert guidance when it comes to decorating your walls, consider working with RAK Interiors. With over a decade of expertise in the realm of interior designing, we know exactly what to deliver, and we deliver with utmost perfection. We are the leading interior designing firm in Kochi, and house a team of experienced professionals who can help you create the perfect look for your homes. From mesmerizing living areas to luxurious dining space and modular kitchens, we integrate beauty with functionality.
Having said that, decorating your walls is a great way to add grandeur and style to your space. Whether you choose wall tiles, wallpaper, or wall paneling, there are endless possibilities for creating a beautiful and unique look for your home. By working with an expert interior design firm like RAK Interiors, you can ensure that your walls look amazing and reflect your personal style.Get in touch with our team of experts near your city and work to build your dream home with the best interior designer near you.